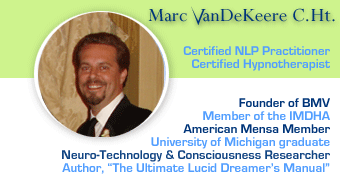 MY BACKGROUND, TRAINING AND CREDENTIALS
My name is Marc VanDeKeere. I am a Certified Hypnotherapist (C.Ht.) as well as a Certified NLP Practitioner (Neuro-Linguistic Programming).
I was professionally trained at The Infinity Institute in Michigan, an internationally accredited institute.
I am a member of the IMDHA (International Medical Dental Hypnotherapy Association) and certified to practice Hypnotherapy in the State of Michigan.
I am a graduate of the University of Michigan, Ann Arbor, as well as a member of AMERICAN MENSA (The High IQ Society).
I am the author of "The Ultimate Lucid Dreamer's Manual", a comprehensive guide that has helped hundreds of dreaming enthusiasts harness the power of their dreams.
Most importantly, I am also a happy husband and a caring father. My wife, Gina VanDeKeere, is my soul mate and my best friend. She has not only blessed our life with her loving ways, but she has also given us our two wonderful daughters, Ava and Lila.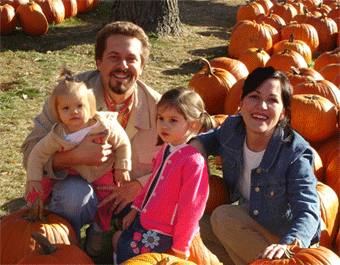 Halloween Photo 2005
Not a day goes by without counting our blessings, I could not have dreamed up a better wife, a better family, a better life, a better occupation or better reality for that matter.
As the founder and creator of BRAINWAVE MIND VOYAGES, I am truly blessed and endlessly grateful to have the opportunity to help so many people from all over the world.
I am happy to serve as the premiere online source of affordable products using audio brainwave entrainment technology.
On an individual level, I am personally honored to be able to help you expedite your own conscious development. Feel free to email me any time. I am always happy to help.
Click here to send me an email.
SYNCHRONICITY OF INTERCONNECTIONS
I care about your progress as much as my own because I whole-heartedly believe that we are all intimately linked. Your success is my success, and we all move forward together collectively raising the consciousness of the entire human race.
We all play our own pivotal roles in the eternal unfolding of this mysterious thing that we call "reality".
We are all members of one human family, one race of multi-dimensional sentient beings. We truly are spiritual beings having a human experience.
The more you know, the more you realize there is to know so you can think of this journey of self-discovery as more of a long distance marathon than a 50-yard dash.
My lifelong passion is to serve the greater purpose of expanding our universal collective consciousness. BMV was created to help maximize your progress as you begin to tap into your unlimited potential.
Hopefully, you can use these tools to affect positive change and accelerate improvements in all aspects of your life.
Thousands of BMV users from all over the globe have experienced powerful results, and you will too!
Feel free to explore our website and learn more about this exciting revolution in audio neuro-technologies. You can learn more about our powerful audio neuro-technologies by clicking here to read the BMV Technology Page.
You can check out our mind-expanding product line by clicking here to explore our BMV Product Page.
See what our customers have to say about our products by clicking here to read our BMV Feedback page.
Check out our new BMV DOWNLOAD AREA for Hypnosis Downloads, Subliminal Downloads and other powerful Brainwave Downloads that you can download to your computer, right now!
Click to visit the BMV MEMBERSHIP SITE where you can get instant access to hundreds of audio downloads. These mind-altering MP3 files are guaranteed to expand your consciousness and make the most of your inner journeys.
HARNESS THE POWERS OF YOUR QUANTUM SELF!